A Joint Initiative of CHORD & Microsoft IT
The joint venture of CHORD & Microsoft IT, Hyderabad, the Growth Gene Project aims at sustainable development for the communities of Yellammabanda, the largest slum in Hyderabad. The Project will Rehabilitate 450 Children, provide Employable Skill Training to 450 Women and create measurable community awareness between 2015 and 2018.
Vision
We hope to setup an education employment cycle that will enable the future generations to step out of Child Labour.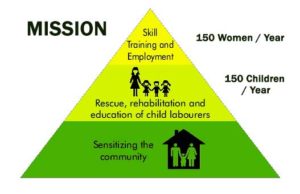 Goal
Skill Training and Employment for 150 women each year
Rescue, rehabilitation and education of 150 child laborers each year
Launch Spriha Collections online and offline as a brand for the products made by the women who are trained in stitching and help establish a self-sustainable enterprise run by them
Aims and Objectives
The project will rehabilitate and educate 450 children, provide employable skill training to 450 women and create measurable community awareness between 2015 and 2018. With this, we hope to set up an education-employment cycle that will enable the future generations to step out of child labor. This also includes community sensitization programs through campaigns, group discussions, workshops etc.
 Target Area
21 communities of N.T.R. Nagar, Yellammabanda, the largest slum in Hyderabad
Target Group
Women between the age group of 18-35 years and children between the age group of 3 – 7 years
Activities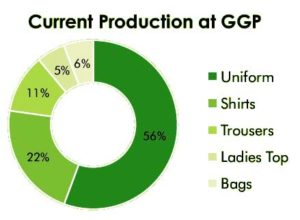 Skill training offered in tailoring, Beautician and professional courses like Tally, DTP and Photoshop.
From the several batches of tailoring students, those who are willing are inducted into the Training-cum-production unit where bulk orders for stitching are received and delivered. This unit is specialized in uniforms, civilian pants and shirts, kurtis, palazzos and ladies bags. The centre is headed by a Supervisor and three tailoring masters.
Three bridge schools have been set up at different locations where the intake is of 50 students each. The three are run by a school co-ordinator and a team of teachers.
Currently, surveys and group discussions are being held in lieu of community awareness activities. Community meals are held and festivals are celebrated to bring the community closer. Volunteers with CHORD are engaged in the community awareness drives as well.
Currently the Center takes both civil (individual) orders for shirts, pants, ladies tops and bags. And bulk orders for Uniforms and Shirts. We have a dedicated Team of 20 Women at the production unit, post training, guided by 4 tailoring masters and headed by a supervisor. The customised production will be branded SPRIHA Collections. By March 2018, Spriha Collections aims to become a Self-Sustaining Profit making enterprise, solely by the Women.
Outcome
So far, 300 children have been enrolled in the bridge school and 220 women have received skill training. 30 of these women are now employed in the production unit and earning and income for their families. The rest have found jobs in local businesses and some have set up their own.
The production unit is now capable of stitching a wide variety of men and women's clothing. They stitch up to 800 pieces a month.  The centre is expanding slowly to cater to the increasing demand.
The GGP Production Unit Empowers Women while delivering quality products at affordable prices.
Engage With Us
Do Business with us: Get your clothes and home products stitched at our unit and help the women earn a livelihood. We assure great quality at lower prices.
Give in Kind: Any material like Text Books, Stationary, Excess Textile, Tailoring Material, etc., that will assist in the functioning of the Bridge Schools or the center, will be of great value to us.